Samsung has updated its popular line of Galaxy A7 smartphones at the end of 2016. The success of this series once again proved the improved formula that makes the Galaxy A7 devices attractive to buyers. we were able to look at the flagship of the new line – smartphone Galaxy A7 (2017), and here is our review of the device for you.
Specifications
Screen: 5.7 inch, Super AMOLED, 386 ppi, 1920 × 1080;
Operating System: Android 6.0.1 Marshmallow (TouchWiz with Grace UX);
Processor: Exynos 7780, an eight (Cortex-A53 core), 14 nm, 64-bit;
GPU: Mali-T830MP3;
RAM: 3 GB;
Internal memory: 32 GB, support for microSD memory cards up to 256GB;
Cams 16 Mn – basic (ƒ / 1,9, LED-flash), 16 Mn – frontal CMOS (ƒ / 1.9);
Battery: 3600 mAh (removable);
Dimensions: 156.8 × 77.6 × 7.9 mm;
Weight: 186 g;
Slots SIM: 2 nanoSIM, the combined slot;
Connectivity: LTE (B1, B2, B3, B4, B5, B7, B8, B17, B20, B28), WCDMA (B1, B2, B4, B5, B8), GSM (GSM850, GSM900, DCS1800, PCS1900), Bluetooth 4.2 (LE), Wi-Fi 802.11 a / b / g / n / ac 2,4 + 5 GHz, GPS (a-GPS), GLONASS;
Sensors: accelerometer, a barometer, a fingerprint scanner, a gyroscope, a geomagnetic sensor, a Hall sensor, proximity sensor, ambient light sensor;
Available colors: black, blue and gold;
Cost at the time of testing 32 990 rubles.
Appearance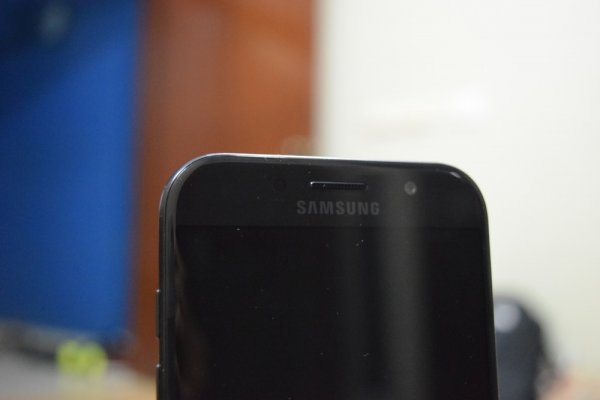 Galaxy A7 2017 sample line has been developing the design concept of the previous one. Galaxy A7 (2017) is made of metal and glass, so smartphone like current flagship – Galaxy S7. Metal bezel body feels and looks very nice. Caseback with surround rounding perfectly in the hand, in spite of the large 5.7-inch screen is not the most compact size (156,8 × 77,6 × 7,9 mm).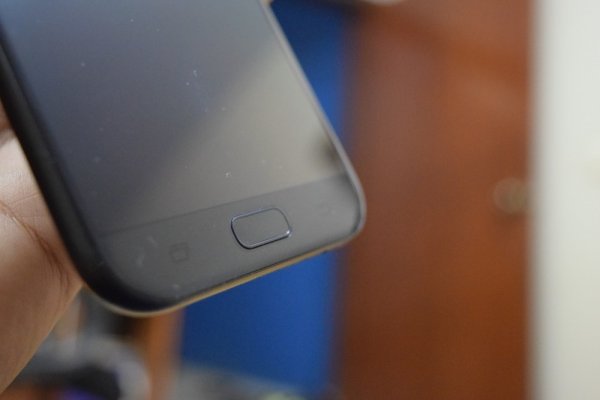 Previous Galaxy A7 (2016) was slightly less (5.5 inch screen), but also lighter – 172 grams instead of 186 grams, the new product. A rather large and heavy phone, but it does not prevent them convenient to use in everyday life. All the back and front panels are large pieces of glass, so the Galaxy A7 (2017) should protect the device as the apple of his eye the owners, because the fall is easy to crack the glass, and in your pocket with keys and small change – scratched. But that should be expected from a phone that is entirely made of glass and polished metal.
This is perhaps the most stylish variation. the tray for SIM- and microSD-cards is located On the upper edge of the microphone. Below – the universal connector USB Type-C, there is another microphone and good old 3.5mm headphone jack. On the left side – the volume control buttons and another slot for nanoSIM-card. Right – Unlock button / on and a small speaker. Often, when you hold the phone in landscape mode and watch the video, you can not help cover the speaker with your finger. The front side of the body diluted button "Home" with the built-in fingerprint reader and two additional buttons such as soft-touch controls for the operating system.
Screen
Samsung Galaxy A7 (2017) equipped with a good matrix type Super AMOLED 5.7 inches, at a resolution of 1920 × 1080 pixels (density is 386 dpi). Like any other screen with the proprietary Samsung technology, this display offers vivid colors and excellent viewing angles. Watch picture on the Galaxy A7 2017 is a pleasure – all thanks to high contrast and pure black.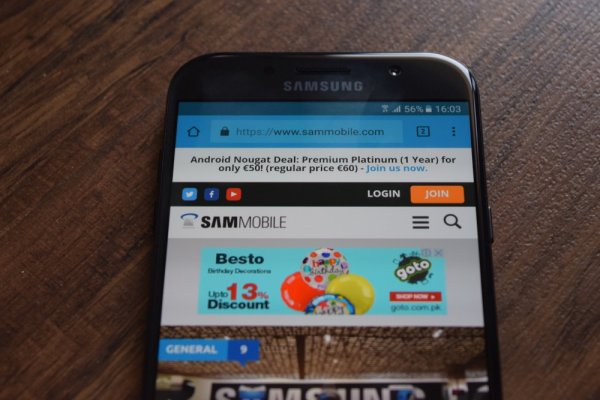 The default setting of the adaptive screen mode that adapts to display images, but can be changed on the modes for photo or video. In general, the screen is excellent and well behaved even in direct sunlight.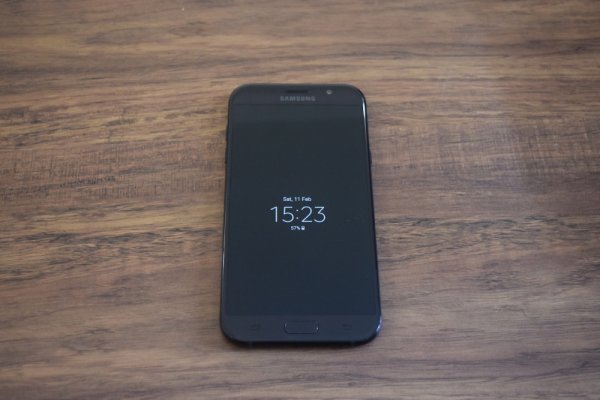 Function Always On – the perfect complement to the screen Super AMOLED. With that widget on the screen, you can constantly see necessary information such as date, time, charge level. it is also able to display notifications from installed applications.
Camera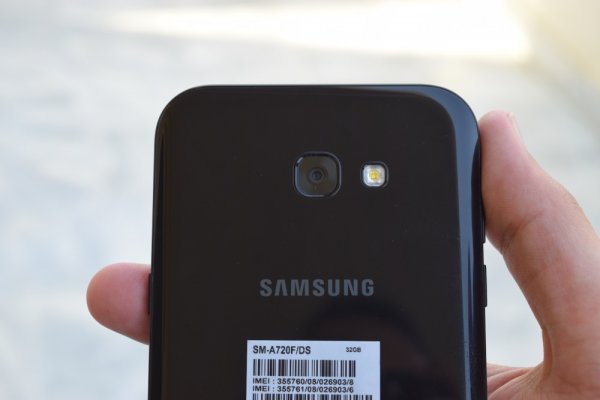 The photographic capacity of the previous generation Galaxy A7 were not the best. The Samsung worked on this part of the smartphone. The device comes with a 16-megapixel sensor with a maximum aperture ƒ / 1.9 and dual LED-flash on the back cover. As also acts as the front chamber 16-megapixel sensor with a similar aperture.
Examples of the photo from Galaxy A7 (2017)
The main camera is able to take pictures with an aspect ratio of 4: 3 full-resolution matrix, as well as 16: 9, but in the 12-megapixel mode. The same is true for the front camera. In daylight obtained very detailed photos with bright and saturated colors. In a room with good light, you can get the picture even better. But on the night shooting not expect anything extraordinary – of detail, sharpness and overall quality is much worse.
Compared with the previous generation there are a few positive aspects: accelerated focus and the colors are natural. For shooting in different conditions and different objects provided plenty of modes: Pro with advanced settings, panorama, Hyperlapse, HDR, night, for food mode.
The front camera will please fans selfie detailed photos – on most smartphones Samsung will not find this. 16-megapixel sensor on the front side of the body can even record a good video at 1080p.
Software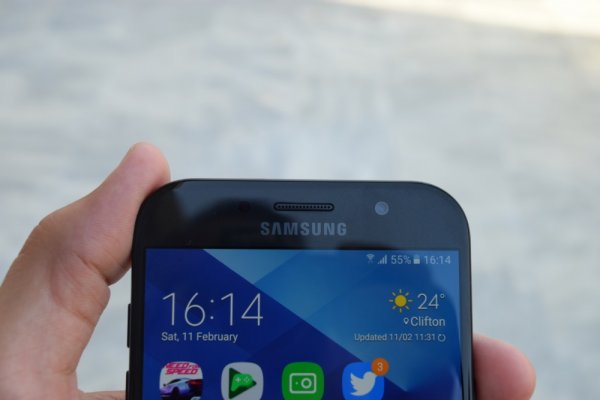 Galaxy A7 (2017) comes preinstalled with Android 6.0.1 Marshmallow. Unlike its predecessor, here we are waiting for a new shell TouchWiz UX interface with Grace, which first appeared in the unsuccessful Galaxy Note 7 and subsequently migrated to other devices. The updated add-in interface looks very nice – it is promoted by the smooth animation, muted colors and stylish rounded icons.
Quick Settings panel and notices painted in white color, which makes it visually easier and more pleasant to the eye. Among the built-in shell features worth noting: secure Secure Folder folder, performance optimizer, several power saving modes, filter blue light, the ability to change interface themes. On the whole, the TouchWiz sample 2016-2017 years – a very pleasant for the user's login shell with useful features and stylish interface.
Iron
The "heart" of the gadget performs eight-processor Exynos 7880 processor with a clock frequency of 1.9 GHz. In processing tasks to help him on the set of memory 3/32 GB and a graphics accelerator Mali-T830MP3. This is enough for most tasks and smooth rendering interface. But sometimes the machine starts suddenly "lag". It is unlikely that it will be noticeable in daily moderate use without heavy applications and games, but otherwise, you can run into with occasional drawdowns performance. Most likely, this is due to an aggressive memory allocation.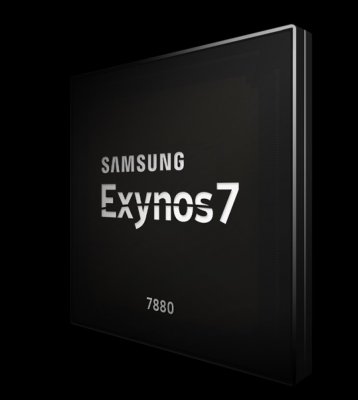 Despite this, Galaxy A7 2017 – a great gadget for gaming. For example, graphic Need for Speed: No Limits looks nice on the large and bright screen device. Exynos 7880 and Mali-T830MP3 well with most modern toys. When extended gaming sessions housing not strongly heated.
Battery and Audio
The battery in the past generation Galaxy A7 fared well, and the new version of Samsung has increased the battery capacity of up to 3600 mAh capacity. The same capacity on the battery is at the flagship Galaxy S7 Edge. The smartphone will never disappoint its owner's lack of charge by the end of the day. For those who this is not enough, the Samsung added stringent energy saving (average and maximum) modes. Activate them, a user rejects the additional processor power, beautiful effects, interface, background data, and even from the flowers on the screen (the image becomes black and white). All this will help to squeeze the maximum out of the battery operating time.
A special tool allows tracking programs that transmit a lot of data in the background. There you can turn them off and save a few more hours of battery life.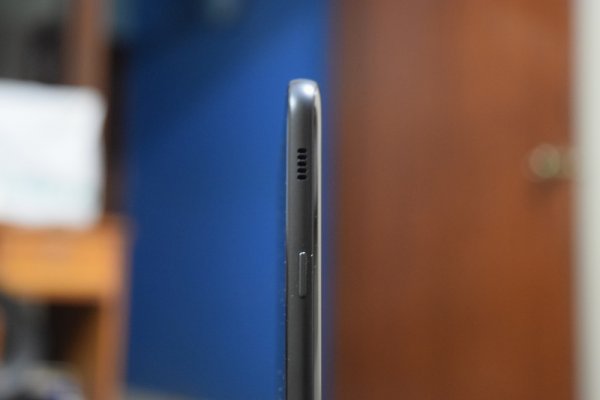 Galaxy A7 speaker (2017)
As already mentioned, the main speaker is located on the right side, just above the release button. Position to say the least unfortunate because often the user closes the finger mesh speaker when using your smartphone in landscape mode. In addition, the quality of the speaker is quite low – blame waterproof. In general, it is fit only for notifications playback. In other cases, it is better to use headphones.
Protection against water
Another strength of the Galaxy A7 (2017), which distinguishes the device from the competition, – protection against water and dust to IP68 standard. Housing smartphone allowed to be immersed in water to a depth of no more than 1.5 meters for 30 minutes. Thus, we can not worry about spilled coffee on the phone, and mobile photography enthusiasts will be able to shoot under water.
But all within reason. If you do not go beyond the formal scope of 1.5 meters and 30 minutes, no problem. Otherwise, the "drowned" are not covered by warranty.
results
Buy Samsung Galaxy A7 (2017) in Russia can be for 32,990 rubles. It's definitely a phone for those who are important gigahertz core and a gigabyte of RAM, but at the cost of their Galaxy A7 of the new generation – a good offer. Excellent uptime, stylish design, it is not a bad camera, protection against water and fast fingerprint scanner – all this makes the smartphone stand out from the competition.